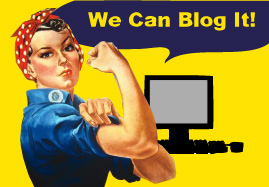 We all know that moms know best and if we're smart we won't argue with our mom!  So, with Mother's Day just around the corner, let's salute moms everywhere and especially those mommy bloggers who really know how to win friends and influence people.
I'm not a mom, so I must admit even though I read all the data and understand the marketing strategy, I was still a little skeptical about the power moms can wield. Of course I know my own mom is the only person on the planet that can take me back to the insecurity of childhood in the blink of an eye, but moms building brands and driving sales…. that's a different matter.
To moms everywhere, I bow to your universal influence and unquestionable power. Moms know how to connect. It's like they have an invisible thread that joins them together, a language they share, experiences that unify them and stories that touch you. Moms just get it and when they like something they let everyone know.
I have a whole new respect for moms. Any brand out there that's not harnessing the "magic of moms" just think about your own mom. I bet she's the one person in the world that makes you stop and think!