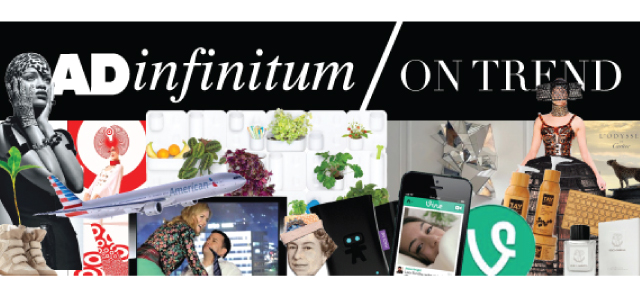 The biggest trend of all is…everything changes! Just when you think you are ahead of the game, something new emerges. Agencies are continually evolving and re-inventing their services to be relevant to brands in this new digital world. But, one thing that never changes: a smart creative concept expertly executed with targeted strategies will deliver results, whatever the medium, whatever the discipline. ADinfinitum's heads of departments got together to bring you their trend predictions for 2013.
NEW BUSINESS: Sue Taggart
The lifeblood of any agency is being able to secure new business. In today's world the big budgets and long term contracts are relegated to episodes of Mad Men. In reality, winning new accounts means being flexible and relevant. According to a January 6 article in Advertising Age, the roster trimming and project work rather than AOR (Agency of Record) assignments will continue even more aggressively in 2013. Agencies will need to get used to earning clients' business bit by bit. That's not news to ADinfinitum, in fact, that's been our philosophy for gaining and growing business over the past decade.
We have trended towards developing innovative platforms that make us relevant and valuable to our clients. Integrating services across multiple mediums is part of our culture. We have learned to react quickly, and our internal communications are efficient and productive. While traditional agencies are just noticing that the lines are blurring, we have a clear vision developed by focusing on our client's needs.
MARKETING/ADVERTISING: Nick Livermore
While mobile ad spends continue to rise at a solid rate, the utilization of mobile devices in tandem with another platform goes far beyond that. Brands and agencies must continue to find innovative ways to captivate their audience on multiple platforms – at the same time.
Take for instance, #WalkingDead. The television show on AMC is a barnstorming success, but until I have gotten caught up this season (thanks Netflix!), I really had NO idea of the social component. Ok, well I SAW all the tweets but I couldn't really get involved. In fact, I got off Twitter because I was tired of all the spoilers my friends were throwing out. But now, I probably tweet and graze more during that hour than any other the rest of the week. AMC incorporate an episode-specific hashtag each week and follow it up with The Talking Dead, but this is definitely Social TV and second screen utilization at its finest. Zeebox, Viggle and ShaZam make the experience even better.
Probably the best example of successful Second Screen media we will see this year is coming up this weekend during the Super Bowl. Inventory for CBSSports.com's online ad spots has filled up nearly as quickly as the broadcast spots. It's not just about the ads anymore – users seek an integrated and engaging experience that adds further value. In addition to CBS Sports' online platform, there are countless other advertisers who are literally fighting to get on that second screen right in front of your face. While sports event and marquee shows are all substantially covered, look for this trend to carry over into more programming, at live events, out-of-home advertising and even into movie theaters.
CREATIVE: Steve Feldman
For decades those who seek out and purchase "health brands" including organic products, all-natural consumables, supplements etc…etc… have generally been treated as a niche market. Many see them in quite a clinical way only. They have always been "targets" to identify and reach. The perception being that all that is needed is information. Just the facts Ma'am. A list of ingredients and proof of "organic" or "all natural" is all that's necessary to seal the deal…give them a dispassionate collection of data.
This is certainly no longer the case. We see the trend in connecting with consumers as a more inclusive and different kind of message. To grow and thrive today, a brand must change its voice. Millions are looking for and expecting their everyday purchases to fit into their ever-growing wish for healthier alternatives individually and for the family….a brand needs to be a part of their lifestyle.
Consumers have hearts as well as minds. The emotional aspect of a brand's "conversation" is as important as the brand itself.
The creative challenge is how to make that connection on all levels to make and keep a brand ever relevant.
PUBLIC RELATIONS: Leesa Raab
As many marketers and PR professionals have noted lately, attention spans are getting shorter and shorter, meaning that our opportunity to grab the attention of the media is getting tougher. That is why it's becoming more important to release information in short and concise message points. No one is going to sit and read a full-page press release these days—at least not initially—without capturing their attention beforehand.
As everyone relies more and more on their mobile devices for information, including journalists, short, impactful messaging is crucial. No one has the patience to sit and scroll for minutes. So get to the point and make it clear why they should care.
Using tools other than phone and email are fast becoming the best way to reach media contacts and influencers. We—and other PR pros—are seeing great success using the likes of Twitter, Instagram and other social applications to get their attention, and ultimately land the story. As attention spans decrease, the use of social tools will increase.
SOCIAL MEDIA: Megan Biondi
During 2012, the social media world went through many drastic changes. Facebook changed to timeline, Twitter added the use of a cover photo and changed its layout to accommodate photos, Pinterest went from beta to the 4th largest social media network and Instagram's following grew to now have almost 100 million users.
In 2013, the use of images and graphics will become a major staple on all social media platforms. For brands, this change means acquiring more social media specific imagery and creating custom graphics that capture a fan's attention. The addition of images, will lead to more brands being involved on visually oriented social media channels and exploring sites outside of Facebook and Twitter, like Pinterest and Instagram.
With the addition of new heavy hitting social media sites, like the two mentioned above, brands are going to need to pick and choose which social media channels to have a presence on in 2013. Users have become accustomed to using social media sites as a resource and have found that some sites are better for certain conversations than others, such as using Pinterest for recipe ideas while turning to Twitter for news updates. Brands are going to need to determine which social media sites will best reach their target market and logically showcase the brand's personality.
During 2012, social media users have become more experimental and willing to explore new sites. I feel that this trend will continue into 2013. Facebook and Twitter will still reign supreme in the social media world, however I would not be surprised if a new site will be close at their heels. Some social media platforms that may emerge (even more) as major players for businesses in 2013 are LinkedIn, Google+, Tumblr and Sulia.