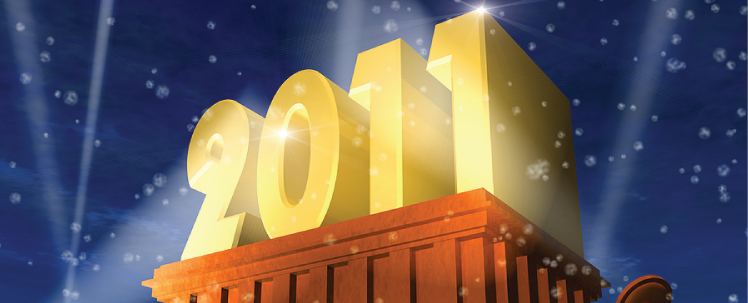 This is the time of year for trends. Trends for 2011 are popping up everywhere. So, not to be left out, we decided to gather the ones that most appealed to us and make a compilation of our favorites gathered from numerous websites, blogs and magazines.
In no particular order are our Top Eleven Trend Picks for 2011:
1. FINANCE: Crowdfunding
Kickstarter popularized the idea of crowdfunding, which is when a large group of
people help fund a project or business through a cluster of small donations. Kickstarter began as a way to help artists get projects off the ground. In return for funding, donors receive goods or services, or even just a well-crafted thank-you, in lieu of equity or interest payments. Now the same idea is spreading to business ventures. Diaspora, a tech company that wants to build a social network to rival Facebook got more than $200,000 in seed money from a Kickstarter campaign. Look for more niche-oriented crowdfunding sites in 2011.
2. FASHION: The 70's are Back!
It's That '70's Show all over again! From the wide-leg trouser to the sexiest classic halter top, the '70's are back again in a BIG way! Even longer, fuller, smarter looking skirts and dresses are giving minis a run for their money. Call it a grown-up movement.
3. LIFESTYLE: It's For The Birds!
The "priestess of trends" Li Edelkoort, a pioneering futurist believes that we will be moving towards a more community-oriented behavior in the next decade. Our attitude will be one of respect for our environment and our species. Also, birds and their social behavior will become a model for the Autumn/Winter 2011/12 fashion season. Birds are a model of social connectivity and communal efficiency, as well as an incredible source of inspiration to develop rich color cards, fantasy fashion shapes, creative make-up, hair color and hair styling.
4. ALCOHOLIC BEVERAGES: Let's Celebrate!
Technomic predicts that as optimism grows in 2011, consumers will want to celebrate with some higher-end alcoholic drinks. As such, retro cocktails and high-end spirits may get more play at fine dining and independent establishments. Craft beers could gain in popularity against their mass-market counterparts and fast-casual concepts could turn to alcohol as a way to differentiate themselves – Cheers!
5. RESTAURANTS: New Competition
Two major trends will affect the restaurant business in 2011.
i. Food trucks are poised to move beyond New York and Los Angeles into more US cities. Not only will gourmet food trucks proliferate, but traditional restaurants will begin using the tactic as a way to extend their brands into new areas or add revenue streams like catering.
ii. Retailers have been encroaching on restaurant turf for a long time, but now the hottest action is among convenience-store operators upgrading their foodservice, where margins are 40-60% instead of the 5% typical for gas.
6. AGRICULTURE: Farmers as Celebrities
The era of the celebrity chef may soon give way to that of the star farmer. Look for more attention to be paid to producers and suppliers on menus across the nation as a growing back-to-the-source mentality takes hold of the industry.
Farmers and producers may soon be high-profile spokesmen for restaurants and host more special events and dinners.
7. HEALTH: Now Read Wellthy
As good health is now as important to some consumers as having the biggest, newest or shiniest status symbols, growing numbers of consumers will expect health products and services in 2011 to prevent misery, if not improve their quality of life, rather than merely treating illness and ailments. In 2011, count on even more monitoring technologies becoming portable or even wearable, as well as getting cheaper (the smartphones held by many consumers are now more advanced than most dedicated medical devices). Also, both regular and dedicated social networks give audiences a platform to share, compare and discuss their personal health issues with other consumers. Last but not least, the 'consumerization' of health means that more consumers will choose products with embedded health benefits that are actually well designed, desirable, accessible, fun, tasty, interesting or storied—for a personal connection.
8. ECO-FRIENDLY: Will Become Eco-Superior

When it comes to 'green consumption' expect a rise in Eco-Superior products: products that are not only eco-friendly, but superior to polluting incumbents in every possible way. Think about a combination of eco-friendly yet superior functionality, superior design and/or superior savings. The need for Eco-Superior is being driven by the fact that the number of consumers actively seeking out 'green' products is reaching a plateau, as mainstream consumers start to question the value and efficiency of going green. Think "tube-free" toilet paper for one, and the FTC publishing the first update to its "Green Guidelines in 12 years. Manufacturers will have to link their "green" or "eco-friendly" claims to specific attributes.
9. DIETING: Farewell to Fads!
Dieting is so 2009!!! Healthy eating will become the focus for 2011, as the road to good health is paved with good eating intentions rather than bizarre diet interventions. Gone are the days of carb-free, grapefruit only, diet fads. Now 'healthy' is considered eating a well-balanced meal with lots of fruits and vegetables and a limited amount of sugars and processed foods. Even lunchrooms are getting 'smarter', as experiments in schools and workplace cafeterias include rearranging food options with more nutritious selections at the front, attractively displayed to encourage smarter food choices.
10. SPECIAL OFFERS: Make Way for Pricing Pandemonium!
While consumers have always looked out for special offers and discounts, new technologies and services mean that 2011 will see total Price Pandemonium. Always-on connectivity is changing consumer spending habits in myriad ways. For example, coupon clipping required planning and dedication, hence was not that popular with consumers more interested in the here and now, but now has become a near-effortless activity. Using a smartphone at the point of purchase for getting the latest deal via GPS or barcode scanning is just, well, smart. Brands will continue to respond with a host of innovative new business models and pricing strategies as 2011 unfolds.
11. WORD OF MOUTH: Goes P2P
In 2011, word of mouth and recommendations will be even more dependent on P2P (Person2Person) dynamics. If Twinsumers (consumers with similar consumer patterns, likes and dislikes and who are hence valuable sources for recommendations on what to buy and experience) are all about improving 'search curation', Social-Lites are all about discovery, as consumers become curators; actively broadcasting, remixing, compiling, commenting, sharing and recommending content, products, purchases, experiences to both their friends and wider audiences. Consumers will talk more about brands in 2011 than ever before. In order for brands to seize the opportunity, creating engaging content that consumers will want to share is the number one requirement.