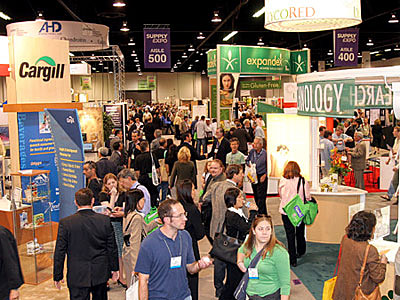 Social Media tactics designed to get more value and more business from your investment.
Many companies are thinking twice about exhibiting at costly trade shows. But, if you have decided that they are important to the marketing of your brand, then make sure you maximize your investment.
Trade shows aren't just about showing up and talking to your customers and prospects, they can be used as an effective communication tool before, during and after show time. With today's online tools you can create a level of excitement and engagement like never before.
1. Plan early
If your company is a long-time exhibitor in your industry, social media can garner a lot of attention and create a buzz. Make sure you have all the relevant platforms in place to get new conversations going:
- LinkedIn for your business contacts and referrals
- Twitter to get the right followers in time to create a high level of interest and interaction
- Website/landing page to announce new developments, post new press releases, etc.
- Electronic show press room, make sure your press kit, releases, promotions, events are posted (as soon as the press room is open)
2. Showtime
Time to execute a carefully developed strategy that should include:
- Interesting early morning tweets to entice people to your booth – don't forget to get your booth number out there at every opportunity
- Announce any seminars or speaking events – make sure you include the location
- Have all the members of your sales and marketing team reach out to their social network contacts 2-3 times each day
- Have a laptop at your booth so visitors can Tweet while visiting
- Run a contest that will drive traffic and link it into your social media
- Don't make it all about sales – thank people for stopping by, post some fun show anecdotes, post some fun or interesting twit pics
- Organize some media interviews at your booth and Tweet about who is there talking with you
- If you want to connect with people socially in the evening after the show is closed, let them know where you will be – impromptu conversations in a relaxing setting can be very conducive to building good business relationships
3. Follow up
Trade show follow up can take longer than it should, so make sure you get your team on board with timely online and social media follow-ups:
- Send out a quick email right after the show to everyone you met. It is important to keep the leads hot and the conversation going
- Not all leads will turn into immediate business, use social media to keep in touch without being too pushy – sometimes this can lead to an unexpected referral
- If you have given a seminar, talk, speech, or been interviewed, etc., make sure it has been recorded on video or flip phone. This helps to create some web-based tools to send out via podcast, Youtube, Twitter or Facebook.
With all the new tools available just make sure your trade show experience and the experience visitors have at your booth is not the same old, same old!