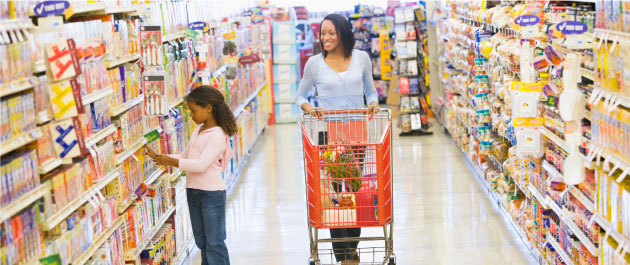 Bad economic times are providing a good financial impetus to store brands according to a May 2009 Neilson insights report. The Private Label Manufacturers Association in the U.S. determined that shoppers were able to slash their grocery bill by up to 30% by switching to store brands. Year ending February 2009 saw store brands in the U.S. posting record sales of $84.4 billion, that's nearly 10% increase from the previous year. This was attributable in large part to consumables like dairy, packaged meats, frozen foods, deli, dry grocery and alcoholic beverages. During the same period, store brands outperformed the national brands reported 2.3% increase, and corresponding total store results of a 3.5% uptick.
Good news for the store brands, especially as they are posting impressive value and volume sales gains in categories that have been traditionally resistant to private label goods. These include hair and skin care, baby food, diapers and baby care products, household cleaning chemicals, cough and cold, oral care, antacids, whole bean coffee and tea, cooking sauces and glazes, breath fresheners, carbonated beverages and feminine hygiene products.
The consumers perception of store brand quality only continues to improve. The best testament to store brand gains is the fact that more than 90% of U.S. households feel comfortable serving store brands to guests.
So, how can national brands compete?
Consumers will gravitate towards a store brand where the delivered value is seen as equal to or exceeding the national brand. Value is not only about price. National brands need to innovate in order to differentiate and build a point of difference in the hearts and minds of consumers. It's the "me-too" products that will lose out. Consumers are looking for quality and value, price points that meet their universal need to save money and brand trust that meets their universal psychological need to nurture their family.
National brands will need to work more closely with retailers to create ways to co-exist on the shelf with store brands, for example:
• Test offering unique items to retailers that only they carry aligned to their shopper
• Understand the role of the category leader for each retailer and how important store brands are to that mix
• Work with retailers to combine name brands and store brands in joint promotions and displays
• Provide top quality analytics – an area where retailers are growing in sophistication
Ref: en-us.neilson.com/consumer insights/May 2009